Travel

Atlanta, Georgia Trip
I have not been to Atlanta, Georgia since 1984, and to be able to return after all of these years on a weekend dedicated to honoring the birth and life of Dr. Martin Luther King, Jr., was surreal.
From Friday, January 13-16, 2017, I and seven cousins spent a lovely weekend visiting a cousin and her spouse. We sampled some good restaurants (Soul Kitchen), took in a performance by Roy Ayers at The City Winery, viewed the movie "Hidden Figures" at CineBistro, which included a great dining experience while watching the movie and attended church services at Open Word Christian Ministries.
The most poignant and powerful aspect of this visit was being able to spend time on the MLK, Jr. Memorial Campus. We spent time at Dr. King's Ebenezer Church where we heard a recording of one of his most moving sermons; we were also able to view a lot of His memorabilia, visit The Freedom Center's exhibits and gift shop and visit Dr. And Mrs. King's grave site which sits on a beautiful reflecting pool and near the Eternal Flame.
To be in Atlanta during this period was humbling. Thanks to my cousins for an enjoyable weekend!  Thank you Dr. and Mrs. King for your sacrifice.

The Historic Ebenezer Baptist Church
Atlanta, GA


Pulpit of Ebenezer Baptist Church
Atlanta, GA

Following Church Services at Open Word Christian Ministries

Cousins at City Winery, Atlanta, GA

I am with the Cousins at the grave site of
Dr. and Mrs. Martin Luther King Jr.,

2018 TRAVEL OUTING SCHEDULE TO GREECE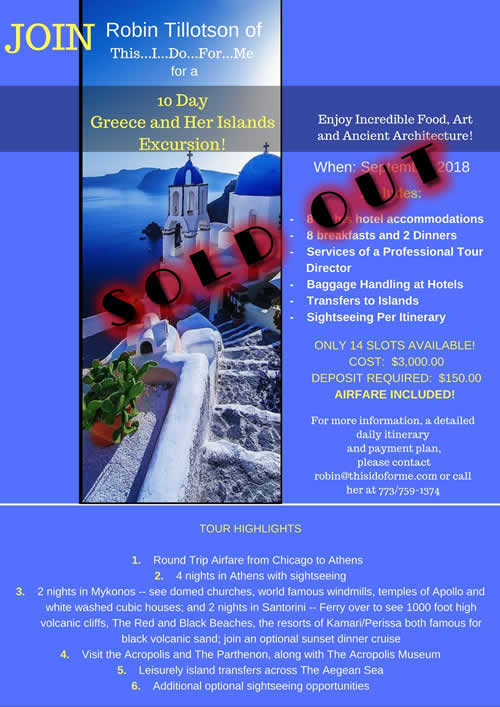 2017 TRAVEL OUTING SCHEDULE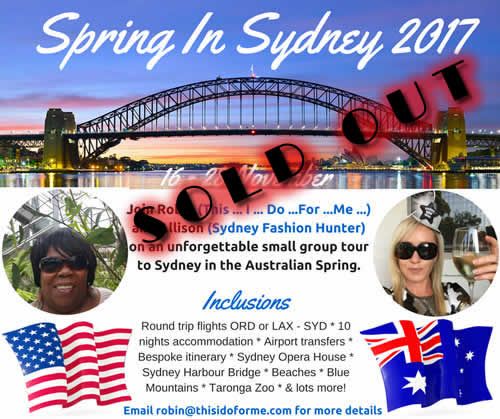 Click the Link on the Menu Bar to SignUp for the trip.
Travelling is critical to my well being! I can't imagine my life without travel.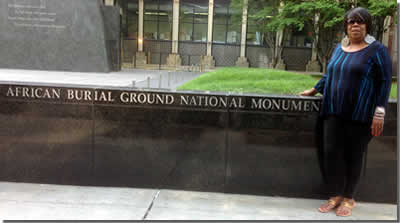 I have been blessed to see a lot of this glorious world that we live in --  China! Italy!, England! France!Tunisia! Spain! Canada! and the USA!  These places have nurtured my soul, and I look forward to traveling to more destinations, particularly South America and Australia. I have found that when I travel, my entire outlook, no matter how open minded I think I am, expands even more.  From the time I step off of a plane, train, cruise liner or bus, I become excited about the people I will meet, the new foods I will be introduced to and yes, the iconic monuments that are to be found in these locations.   I always return home a more enlightened person ready to plan the next adventure.
(pictured - Robin at the African Burial Ground Monument, NYC)

Whether traveling  with a group, a sister friend or solo, I have not let money and time be a barrier to traveling.  Discount fares, inexpensive accommodations and reasonably priced food abound.  The only thing that you don't want to lack is the DESIRE to see the world.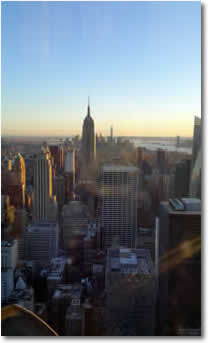 Somehow no matter what my finances looked liked, the minute the desire hit me to travel to a particular locale, that trip began to manifest.  Learning about the region, its weather, its historical sites, where I planned to eat has always been the fun part.

Some of my favorite travel excursions  have been ones where I had to walk a great deal.  Take Barcelona – to really experience the flavor of this city, you must walk.  On my walk to the famed The Familia Sagrada, I met a group of young people from Milan who were studying in Barcelona.  Their English was superb, so it was easy for me to grab on to their excitement about night life in Barcelona, its architectural treasures and the authentic tapas.

(pictured - NYC Skyline from Rockefeller Center)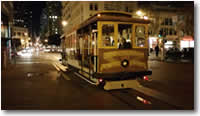 I joined them at a street café where we dined al fresco and drank plenty of wine.  They asked me questions about Chicago, and I got a first hand education on why fashion is so important in Milan.    I would not have had that experience had I not been walking and of course, being open to meeting new people. (pictured - The Iconic San Francisco Trolley Car - click photo to enlarge)


If you are waiting for some magical time in your life to travel, wait no more!  Now is the appointed time.  See this world, meet its people and enjoy the process of becoming a global citizen.

My Travel History and Bucket List
Let's take a look at my Past Travels, International and Domestic . . .

PAST TRAVELS –
International                               

Ensenada, Mexico
Puerto Vallarta, Mexico (see photo link below)
Bahamas/Coco Cay
London, England (Lived Here for 1 Year)
Stratford Upon Avon, England
Tunis, Tunisia
Majorca, Spain
Barcelona, Spain
Madrid, Spain
Naples, Italy
Genoa, Italy
Milan, Italy
Palermo, Sicily
Paris, France (see photo link below)
Marseille, France
Aix-En-Provence, France
Arles, France
Avignon, France
Monaco, France
Nice, France
St. Tropez, France
Lyon, France
Beaune, France
St. Paul de Vence, France
St. Baume Maxime, France
Montreal, Canada
Quebec City, Canada
Toronto, Canada
Niagra Falls, Canada
Shanghai, China
Beijing, China
Guiyang, China
Hong Kong, China
Sydney, Australia (see photo link below)
Dublin, Ireland


TRAVEL BUCKET LIST -
International

Lausanne, Geneva and Zurich, Switzerland
Vancouver, British Columbia
Cork, Galway, Ireland
Moscow, St. Petersburg, Russia
Prague
Croatia
South Africa
Barbados
Senegal
Puerto Rico
Morocco

PAST TRAVELS –
Domestic

San Francisco, CA (see photo link below)
San Diego, CA
Los Angeles, CA
Sausalito, CA
San Rafael, CA
Berkeley, CA
New York, NY (see photo link below)
Buffalo, NY
Boston, MA
Philadelphia, PA
Washington, DC
St. Louis, MO
Las Vegas, NV
Nashville, TN
Knoxville, TN
Houston, TX
Orlando, FL
Pensacola, FL
Mobile, AL
New Orleans, LA
Atlanta, GA
Little Rock, AK
Louisville, KY
Cincinnati, OH
Cleveland, OH
Indianapolis, IN
Phoenix, AZ
Sedona, AZ
Tuscon, AZ
Grand Canyon, AZ
Tempe, AZ
Sioux Falls, SD
Detroit, MI


TRAVEL BUCKET LIST –
Domestic

Seattle, WA
Burlington, VT
Anywhere in Maine
New Hampshire
Portland, OR
Charlotte, NC
Raleigh/Durham, NC
Charleston, SC
Savannah, GA
Mt. Rushmore
Alaskan Cruise


Travel Wisdom
(Here we will post the travel wisdom of the week for an entire month or 2 before moving them to our archive page.)
june 2017

"Travel is still the most intense mode of learning."
- Kevin Kelly
"No one realizes how beautiful it is to travel until he comes home and rests his head on his old
pillow."
- Lin Yutang
"The thing that makes you exceptional, if you are at all, is inevitably that which must also make you lonely."
- Lorraine Hansberry
" And at the end of the day, your feet should be dirty, your hair messy and your eyes sparkling."
- Shanti




Spain is Life! Spain is Beautiful!  Spain is Everything!
I spent 13 glorious days is Espana!  Every time I visit a new city, it becomes my favorite. Madrid is everything I imagined -- sophisticated, vibrant and cultured. I was blessed to experience multiple facets of this great city.
Madrid was also not everything I expected. My imagination has not evolved enough to hold all that this beautiful city and country has to offer. Although I only scratched the surface of Spain (I've also been to Barcelona and Mallorca in the past), Madrid convinced me that I must return several more times to fall in love with other cities there. So in advance I want to thank Seville, Bilbao, Granada and Toledo! I look forward to meeting you.
While in Madrid, I visited The Prado, where I saw the work of the Spanish Master Francisco Goya (his Black Paintings were something to behold), and I visited The Reina Sofia.  Here I saw the work of Salvador Dali and Pablo Picasso's Guernica! It's one thing to see these works in a book, but to view them in living color is nothing less than amazing.
What is Spain without Flamenco, along with a tasty selection of Tapas? At Torres Bermejas, we were entertained by seven Flamenco artists.  The costumes were phenomenal, and the art form, itself, will have you mesmerized. Flamenco is both sexy and powerful.
What would a visit to Spain be without seeing some of he places that famed American writer Ernest Hemingway frequented?
The bodega Sofrino de Botin is one such place! Acclaimed as the oldest restaurant in the world (in 2025, it will be 300 years old), Botin is mentioned in Hemingway's Classic  "The Sun Also Rises." It was his favorite restaurant, and who could blame him. The Roast Suckling Pig and Roast Lamb are their signature dishes and  will make you salute the chef. Their Sangria was classic, as well.
When you visit Botin, ask to see and/or be seated at The Hemingway Table.
My favorite experience in Madrid had to be the Paella class I took with four other people visiting from Australia, Poland and Arizona. I have always wanted to take a cooking class abroad, and I got to fulfill that dream. We were also prepared a Spanish Omelet and a Cod and Orange Salad. We had a blast!  Our instructor is co-owner of the school name.

My second week in Spain was spent in The Salamancan village of La Alberca!  Stayed tuned for a blog post about my volunteer experience with The Diverbo Program.
The people of Spain are Diamonds, and if you really need a crash course in living well, just emulate them.
Enjoy my photos!
FLAMENCO DANCERS IN MADRID, SPAIN


Click below to see more photos from Spain
Southside to Switzerland

I had the honor of interviewing Carolyn Davenport Moncel, who is an African American woman living in Lausanne, Switzerland. Carolyn grew up on the Southside of Chicago, and she has great memories of growing up there.   She  works as a Communications Officer and Social Media Manager with the Lutheran World Federation in Geneva, Switzerland and enjoys her work immensely.
Carolyn has written three collections of short stories — "Encounter in Paris," "Railway Confessions" and "5 Reasons to Leave a Lover."
When I asked her if she would be willing to share her journey of living abroad with our readers, Carolyn, without hesitancy, agreed! I learned so much from her, and I hope you do, also.
Carolyn, please share with our readers what it was like growing up in Chicago's Pullman area.  
I grew up in Maple Park, which is a community that borders the Morgan Park, Roseland, Pullman and West Pullman neighborhoods;  between 115th to 119th streets (north to south) and from Halsted to Ashland streets (east to west).  I know these days, people talk a lot about violence on the South side, but for us, that really wasn't the case; primarily because most people had no clue that the numbered streets could actually go that high and still be within the city limits.
In a lot of ways, that neighborhood will always be home for me.  It's where I learned how to ride my bike, and roller skate.  It's the place where I jumped through backyard sprinklers and built snowmen. It's where I learned how to cross the "big street" (115th) to get candy and pop. It is where I played sidewalk games, jumped rope and caught lightening bugs during the summertime. Everyone knew everyone else; heck, sometimes your classroom teacher was also your neighbor! Any adult at any time could and would reprimand you for wrong doing. It was a working-class neighborhood, but it was a quiet and safe one. Whenever I am home in Chicago, I have to stop and visit the people who still live on that street because they also are a part of my extended family.
You were very specific in stating that your neighborhood was called "Maple Park." Why?
I think my need to be specific comes from both my parents and their neighbors. They took such great pride in that neighborhood from a historical point of view, and they never let us kids forget it. Given Chicago's history of racial segregation, it wasn't rare that a neighborhood would be comprised of all African American residents.  However, it was a rare thing that a neighborhood would be constructed – from the ground up – specifically for African American homeowners and their families.  My parents were among those original residents from 1962, and most (if not all) of the original male homeowners were also World War II veterans. Regrettably, my father passed away only after ten years of living in our house, but my mother lived in our house for nearly 45 years until her death in 2006.  My brothers and I still own that house, and a good number of . . .

SYDNEY, AUSTRALIA
Sydney is an exciting city, and I went in November 2015, when Spring was just about to make its exodus. It rained a lot while I was there, but the wonderful thing about Sydney is that not even the rain can interfere with enjoying the beauty and liveliness of this Down Under City. The sun always came out, eventually.
In my collage of photos, you will see the magnificent exterior and interior of the famed Sydney Opera House and its Promenade, The Sydney Harbour Bridge, Bondi Beach, The Sydney Wild Life Center, Darling Harbour, Various Street Scenes, The Central Transportation Center, The Iconic Queen Victoria Building (QVB) and even Chef Jaime Oliver's Restaurant. 
On my next trip, I'd like to see more of Sydney, but next time I want to see Melbourne and Tasmania. Can't wait to go back! Thank you, Allison Smith (The Sydney Fashion Hunter Blog) for your kindness and hospitality.
Copyright 2015© O'K. Graphic Design for This I Do For Me - All Rights Reserve