Music & Concerts

This section of the website will focus on musical concerts and performances. You will get an inside glimpse of my attendance at the symphony, jazz concerts (my favorite) R&B events, and I will even share some of the Live Stream events that I attend via virtual means.

Review of Terri Lyne Carrington and Lizz Wright Concert
On Thursday, January 26, 2017, I was blessed to see live in concert drummer Terri Lyne Carrington and Lizz Wright at The Reva and David Logan Center for the Performing Arts.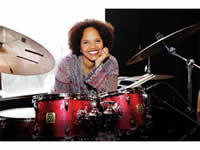 To see either of these ladies in concert singlely would have been mind blowing, but to be gifted with seeing them both perform was other worldly.
Carrington, an award winning virtuoso, was formerly the House Drummer for The Arsenio Hall Show; she was also the first woman to receive a Grammy for a jazz performance. Carrington delivered a number of Duke Ellington pieces that allowed the audience to hear his work at a depth I have not experienced.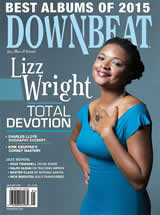 She is a master of improvisation, and it is obvious that her music
mentors -- Clark Terry, Herbie Hancock and Dizzy Gillespie --
taught her well.
Jazz Vocalist Lizz Wright has one of the sultriest voices out there. The daughter of a minister, you can hear the gospel influence in her jazz vocals. She not only sings well, but Wright is a master story teller, as well. As she performed "Nearness of You," I was as entranced as much by the lyrics and her style of delivery of those words as by her beautiful voice. Wright also delivered
---

The amazing Freddy Cole ....

... (the younger brother of Nat King Cole) appeared at The Reva and David Logan Performing Arts Center on Friday, October 21, 2016. If you wondered if there was another voice around that although is not identical to Nat but close, wonder no more -- Freddie is a close reproduction, however he has his own style.
What's even more phenomenal is that Freddy, age 85, carried not not only his schedule set but the set of Rene Marie, who had to cancel due to an unexpected illness that would not allow her to fly to Chicago.
Aside from a 20 minute intermission, Mr. Cole played and vocalized for an hour for each set. Performers half his age could learn from Mr. Cole's and his unbelievable stamina.
Freddy, a former boxer and Juilliard School attendee, offered to us a tribute to his world famous brother Nat. His rendition of "Mona Lisa" was impeccable! He even covered "Sweet Lorraine." 
Accompanied by a class act trio of musicians, along with Rene Marie's pianist John Chin, Mr. Cole's delivered a diverse repertoire of jazz, blues and rhythm and blues. Mr. Cole is witty, gracious, and it's apparent that he loves and respects his audience.
Thank you, sir for being a standard bearer.
---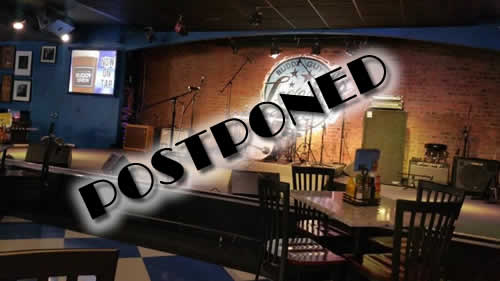 Another THIS...I...DO...FOR...ME Outing!
Saturday, July 30, 2016
8:00 P.M.
BUDDY GUY'S LEGENDS BLUES CLUB
700 S. WABASH AVENUE
Come Join The Group For a Great Blues Experience, Good Food and Great Fun!
You Must RSVP To Robin@thisidoforme.com by Monday, June 20, 2016
Cost: $30.00
LIMIT: 15 Participants

---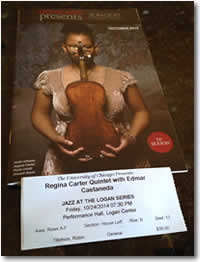 Every imaginable venue will be explored -- jazz clubs, wineries and traditional concert halls! 
And although attending a concert given by some of the most well known artists can't be ignored,  I am most excited about sharing my experiences of hearing some of the world's newer artists -- Cecile McLorin Salvant, Gregory Porter and Victor Goines from the jazz world. The old and the new! The traditional and the avant garde! Stay tuned!  It will be a blast!

(pictured - Regina Carter Concert - University of Chicago 2014)
---

Review of Leon Bridges Concert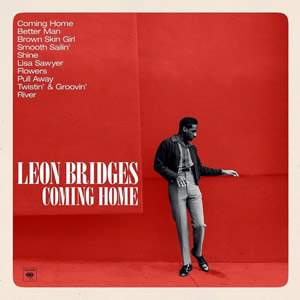 The Chicago Theatre
March 11, 2016
By Charles & Marcia Murphy
Leon Bridges was stellar in his debut at the Chicago Theatre, the eighth stop on the Spring Leg of his 2016 World Tour. He and the other six members of his touring band played their signature blend of Sam Cooke inspired 60's style soul, rhythm and blues, and gospel to a sold-out house full of energy and enthusiasm. The audience was clearly a mix of ages, proof of the wide appeal of Mr. Bridge's sound. Early on, Mr. Bridges invited everyone to stand and dance, and several dozen gladly complied.
As expected, the band performed all ten pieces from their debut CD "Coming Home," (Columbia Records, 2015), interspersed among a medley of newly written songs yet to be released. Lead backing vocalist Brittni Jessie and sax player Jeff Dazey were brilliant in their roles, and received emphatic approval from the crowd. Mr. Bridges and Ms. Jessie were especially riveting in their spotlighted vocals of gospel inspired "River."
Throughout the concert, Mr. Bridges glided back and forth across the stage to the great delight of the crowd, displaying his unique combination of bluesy and soul nuanced moves. Overall, the passion, force and energy of Mr. Bridges and his band were abundant. No one should be surprised to see Mr. Bridges and his band continue to ascend amidst positive acclaim.
---
"Twenty-Six year old phenom Cecile McLorin Salvant is amazing. She performed at the Reva and David Logan Center for Performing Arts on Friday, October 23, 2015. She served up her unique ability to render a classic jazz tune with sophistication, style and even whimsy.
When you listen to her rendition of "Wives and Lovers," you hear traces of Sarah Vaughn and Billie Holiday. In her classic white framed glasses, Salvant gives you a concert that is so memorable, and you leave in disbelief that an artist with her masterful delivery could only be 26 years old.
---
Here it is:

My life's journey has changed drastically since our Obie days. Some people would say that I finally found my way back home. Growing up, I had a great musical education under the guidance of my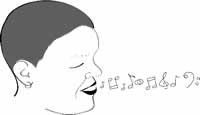 uncle, the late Donald LaMar Hilliard, the First!!! I started piano at age four and then picked up the violin at age 7. I studied piano all through high school.

Everyone thought I would audition for music on piano when it was time to apply to colleges but I, at the time, had become somewhat
of a rambunctious, cantakerous teenager so I did not just to spite everyone. Isn't funny how life has a way of coming back around and biting you on the derriere. At Oberlin, I majored in Mathematics and Physical Education but because I earned a 'C' in my last math class, I didn't get credit for the Math major. Oh well, what was I to do with Phys. Ed. because I did not become a certified teacher. At the time, I considered trying out for the Liberty League which was the WNBA back in the day but the league folded in February of my senior year. Things happen for a reason...

After I graduated and returned back home to Buffalo, NY, I started working for and in my uncle's music school, Buffalo Arts & Music, affectionately called BAM (long before Emeril became such a recognized sensation). I started studying voice in earnest. And after several successful local
auditions and singing with the Greater Buffalo Opera Company and the Schola Cantorum, now known as the Buffalo Philharmonic Chorus, I decided to go back to school to finally earn that degree in music but this time my main instrument was voice. Well I earned my Masters in Vocal Performance
in 1996 and moved to Chicagoland that summer.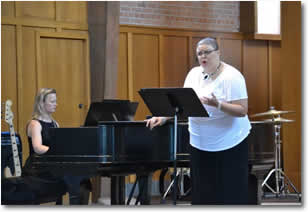 All the twists and turn, we make on life's journey can create such a colorful "Scape". June 2015, I began the process or recording my debut CD, "Lifescapes: One Woman's Journey". The CD release was October 24, 2015 and is now available on CD, drop me line at www.rae-myra.com and download at CD Baby: http://www.cdbaby.com/cd/raemyrahilliard. I know a shameless plug. But I am truly excited and a little bit proud of this achievement especially because all the songs on the CD were composed by Black-American composers of classical music, most of whom are still living. The performing and recording of such music is still not in the mainstream even though some of the most well-known classical vocalists of today are of color. The texts to the songs were written by poets of color as well.

Funny the twists and turns of my journey led me back to the original landscape of music, I just took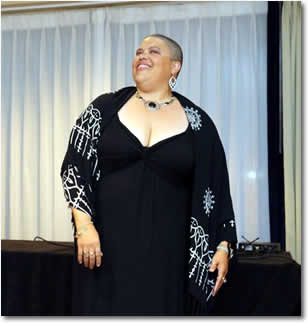 a detour from piano to voice as my primary instrument. Am I one of the most well-known classical singers in Chicago? Most definitely not but I do have stories to share and I am making a decent living doing just that. One thing I can say with the utmost certainty is that I LOVE MY JOBS as a performer, teacher and church musician.

Rae-Myra

Rae-Myra Hilliard, soprano
www.rae-myra.com
773.301.9648

Copyright 2015© O'K. Graphic Design for This I Do For Me - All Rights Reserve