Join our Facebook Group "IT'S OUR TIME TO LIVE." 
The group is dedicated to the upliftment of women age 50+
Welcome To

This ... I ... Do ... For ... ME™!



I'm Robin Tillotson,


Step into my World!
YOUTUBE VIDEO OFTHE KICKSTART YOUR CONFIDENCE SUMMIT PRESENTING IN INTERVIE WITH ROBIN TILLOTSON HOSTED BY TERA GREENE


The Kickstart Your Confidence Summit is geared for women who want to identify secrets to manage and prepare for a happy menopause. You can hear some really outstanding speakers from a variety of fields.

UPCOMING TRIPS

GHANA TRIP 2024
ASIAN ADVENTURE 2024

"TRAVEL HACKS"
These Travel Hacks will be helpful to you where you may be traveling.
Check them out ...




Looking for Your Travel Tribe? 4 Ways to See the World With Other Sisters

best souvenirs are often new friendships. Here's how to hook up with globe-trotting girlfriends for cruises, tours and meetups.

---

2022 TRIP TO GHANA
You may watch the videos by clicking on the red box
with the arrow or watch them on YouTube


PANAMA CITY, PANAMA
TANZANIA, EAST AFRICA

GHANA, WEST AFRICA

ABOUT ROBIN

As Chief Cultural Officer for This I do For Me, a business specializing in creating bespoke international travel for women age 50+, I have a wealth of experience in the arenas of advertising, public relations, human resources, training and gerontology.  An avid traveler and purveyor of culture, I have traveled to China, Northern Africa, France, Italy, Spain, Mexico, Canada and Southeast Asia.  I am most passionate about helping Black women age 50+ thrive and age vibrantly.  Although I do this primarily through the vehicle of travel, I place an emphasis on my travelers' self-exploration and discovery.

I am also the host of the podcast This I do For Me:  Women Over 50, Black and Fabulous! As a Joyful Activist For Aging with more than 20 years of experience in Aging Services for the City of Chicago, my mission as a podcast host is to highlight Black women age 50+ and the phenomenal things they are doing – writing books, starting new businesses, finding solutions to complex societal problems, etc.  Growth and development is still manifesting as we age, only now we can do it without the encumbrances and the limitations that used to be assigned to older women. 
---
(NOTE FROM THE WEBLADEE)

THE LINK BELOW WILL TAKE YOU TO AN ARTICLE IN A BRITISH PUBLICATION THAT ROBIN TILLOTSON WAS INTERVIEWED
FOR ENTITLED
"Unmarried & Unbothered: Black Women Who Prefer
Autonomy Over Marriage"
---
(NOTE FROM THE WEBLADEE)

There was an article on the front page of the Chicago Tribune featuring Robin Tillotson of This I Do For Me™. Due to copyright issues we cannot post the article but we encourage you to click the link below to go to the Tribune website to read it.
---

"THE EDGE OF LEAN" PODCAST WITH BELLA ENGLEBACH,
DEONDRA WARDELLE & ROBIN TILLOTSON



CI IN 5 PODCAST WITH SAM MORGAN, FEATURING ROBIN TILLOTSON



---
What a great experience to be a guest on the Blank Slate Podcast with Sam Tanios and Ben Tanzer! Sam and Ben are radical about helping small businesses grow, especially after the pandemic.

I share how I am helping women age 50+ navigate their second act.
---
"Meet The Woman Behind The Black-Owned Travel Company
For Women Over 50" (ARTICLE BY TRAVEL NOIRE)
This I Do For Me is a Black-owned travel company that provides international travel and cultural opportunities to African American women over 50. Owned by the Chicago-based entrepreneur Robin Joyce Tillotson, this Black-owned travel company intends to make a difference in the lives of many Black women in their prime.
"We use the trips to help us identify what we want to manifest in our 'second act' of life," Tillotson said. "For some that has translated into encore careers, starting new businesses or writing a book."
Travel Noire had the chance to catch up with Tillotson to learn more about her company's activities and how it is helping women over 50 get more confidence in many aspects of their lives. 
Travel Noire: How did you come up with the idea of creating this Black-owned travel company?
Tillotson: I decided to start the business because I was noticing that women age 50+ were doing for everyone else— grandchildren, aging parents, community organizations, spouses, etc. But, they were not doing anything that was just for them. Many would say continuously that they wanted to travel, and when I would talk to them a year later, they still hadn't taken any steps to do so.  
A couple of women said they always wanted to go to Australia, and TIDFM's inaugural trip was to Sydney, Australia.
Now these same women who kept putting off travel now say, "when is the next trip? "

---
Below is an interview I had with Jawanda Jackson ... Hope you enjoy it!



I had the honor of appearing as a guest on my favorite podcast Black Women Travel hosted by the phenomenal Wanda Duncan. We get pretty personal on here.
This is not your typical travel podcast.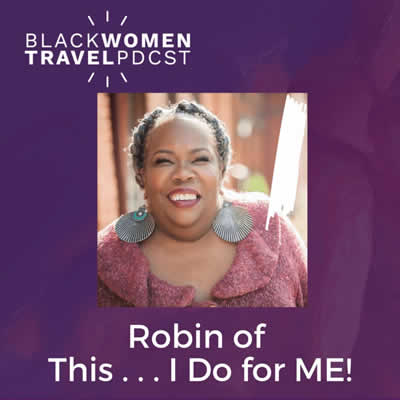 CHAPTER 59-ROBIN OF THIS . . . I DO FOR ME!
CLICK BELOW TO LISTEN TO PODCAST

Truly hope you enjoy and are inspired by this week's episode with Robin.

In this chapter, Robin shares her first trip, which was flying in style in first class at the age of seven. She talks about being a teenager and believing the world was hers, and how she started to dream and plan her life accordingly.

Robin says she didn't consider anything to be out of her reach, and while her parents encouraged her, she had made up her own mind about seeking out opportunities. She believes in the need to have a spiritual practice and continually develop self-awareness to combat the programming the world has embedded in our consciousness.
Robin thinks the Black Lives Matter movement has done a lot to reinforce within ourselves that our lives matter. She's seen how some seniors are afraid to retire, because their whole life has been work, and they wouldn't know what to do with new found free time. Make sure you listen all the way to the end (as you normally do) because for the first time in BWT Pod history, Robin pulls my wig all the way off. We were wrapping things up and suffice it to say, Robin says "I hook more now than I ever have."
This I do for Me Women Over 50 Black and Fabulous is the full name of her business. You can check out Robin's website (thisidodorme.com) and her podcast page (thisidoforme.com/podcast.html), and she'd love your support on social media. Here's her podcast Facebook and Instagram, and her travel account Facebook and Instagram. Robin also has a Facebook group for the fabulous and over 50 Black woman.
Robin loves the poem "Ego Tripping (there may be a reason why)" by Nikki Giovanni
BWT Podcast is available on:
Google Podcasts
Apple Podcasts
Spotify
---
This is what Aneaise had to say about her recent travels to SE Asia with TIDFM!

"Where do I start? Let's see — I was introduced to Robin by a co-worker who planned a trip to Australia with her, but she had to cancel; so I took her place, and what a blessing for me! 

This is my 3rd trip with Robin, and the bar has been set higher each time.  The detailed planning hasn't been a disappointment. I'm looking forward to continuing my travels with her travel business.  I encourage you to give it a try. You will not be disappointed. I'm so happy that she created a group for us women over 50!  Continued Blessings, Robin. Love you!!"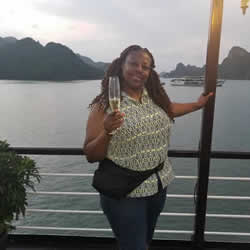 ~ Aneaise Dorsey ~November 2019

UPCOMING TRIP TO ITALY IN OCTOBER OF 2022
IS "OPEN".
For Pricing And To Reserve Your Slot, Call Robin at 773/759-1374
JOIN ROBIN AND OTHER THIS...I...DO...FOR...ME TRAVELERS
FOR 10 DAYS IN BEAUTIFUL ITALY!
Experience Historic Architecture and Phenomenal Culinary Delights!

TOUR HIGHLIGHTS:

- Visit Rome, the "Eternal City," Florence, Pisa and Venice, Italy;
- See the Sistine Chapel and Michelangelo's Frescoes in the Vatican City;
- Take a Funicular up to the ancient town of Orvieto;
- Marvel at the angle of the Leaning Tower of Pisa;
- Traverse the Canal of Venice in a Gondola;
- Explore impressive sights in Bologna, Verona and Milan

INCLUDES:

8 Nights! Hotels, 8 Breakfasts and 3 Dinners; Baggage Handling at Hotels;
Round Trip Airfare From Chicago to Rome;
Participation in Private Facebook Group;
Two Conference Calls (In March 2019 and 30 Days Prior To Departure in September 2020)

DEPOSIT: $250.00 AT TIME OF BOOKING IN MARCH 2019
SINGLE SUPPLEMENT AVAILABLE!
ONLY 16 SLOTS AVAILABLE!!!! SERIOUS INQUIRES ONLY.
---
Robin in Nice, France (above)
These TIDFM™ Ladies have
their t-shirts
Do you have yours yet?
Click below to order your TIDFM™
T-Shirt

Even the Men are Getting in On It!
---
August 21-24, 2018 was a most enlightening week as six delegates from Shanghai, China visited the City of Chicago through The Chicago Sister Cities Program.  Members of the Chicago Shanghai Social Services Committee welcomed the delegation and a translator to the world of senior/elder services as administered by the state of Illinois and the City of Chicago.
Planning for this esteemed delegation took place over the course of one year.  We aimed to provide the delegates with the most comprehensive view of service delivery models from the federal, state and local levels.  Additionally, the planning committee ensured that our guests were exposed to a variety of the milieus that seniors interface with in their day to day lives.
The delegates visited Advocate Lutheran General Hospital, Little Brothers -Friends of the Elderly Chicago, The Chinese American Service League, Cook County Public Guardian's Office, World Business Chicago, Three Crowns, The Clare Senior Independent Living Community.
The week culminated with an International Symposium that focused on how to integrate community-based inter-professional care and services to optimize the health and well-being of older adults.
Conversely, we learned a lot from listening to how things are done on behalf of seniors in Shanghai.  Next year a group of Chicago Senior Services professionals will travel to Shanghai, and their lives will change forever.
A professional and cultural exchange of this magnitude certainly creates bonds of unity and promotes a world of sharing.  We are all grateful.
---
Would You Do This For Yourself?
Guest Blogger Kweli Kitwana prepares a table before us replete with the love and care that we need to apply to our lives daily.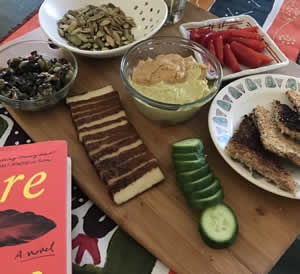 Sometimes it's the simple indulgences and  the simple activities that bring us the most joy.
Would you take the time to prepare a beautiful tray of food for yourself? You know — those special trays of foods, laid out perfectly and thoughtfully to impress others but now we are aiming to do it for  for ourselves?
We spend an enormous amount of time "pleasing" others. Whether it's our partners, family or friends, it's not common to take extra steps to ensure their enjoyment and pleasures of indulgence.
But what about yourself?  Would you make these same efforts to bring this same joy to yourself? I often hear myself saying these words,  "I get much pleasure from doing things for others."
Believe me, I truly like to do things for me — without  fanfare or exhibition, but as I prepare a tray of snacks for my reading ritual, I am very conscious that I am doing this for me. Each choice of food that I make, every piece that I slice and even right down to the arrangement of my snacks, the personal choices I make to please and stimulate my loving heart for myself are consciously done.
We don't need to eat out of bags or over sinks just because we are not in the presence of others. We can take time to mindfully care for ourselves because WE DESERVE IT!
Kweli is an artist living in the Bay Area and committed to getting the most out of life.
On Saturday, July 22, 2017 I and ten women swapped books and had a delectable dinner at Eddie V's Restaurant in Chicago. This will be an annual event for TIDFM™!
_____________________________________________________________________
On Friday, I attended a Wine Tasting event at The Hyde Park Hyatt. All of the wines presented by Master Wine expert Brian Duncan were created by African American wine makers. Here are the wines that were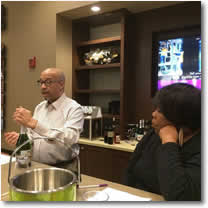 presented that evening: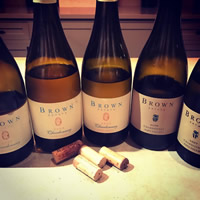 - Bodkin Sparkling Wine
- LCS Good Friends, Good Times (a Pinot Grigio)
- Love Drunk (a Rose')
- LCS We Are Moving on Up (a Cabernet Sauvignon)
- Brown Family Zinfandel
- Brown Family Chaos Theory (highly complex, but DELICIOUS)
Please stay tuned for an announcement about a wine tasting that I will offer.Details coming soon.
Wine Tasting and Food Pairing Event at Eddie V's Prime Seafood Restaurant - Photos are below


Results of the 3rd TIDFM™ Contest -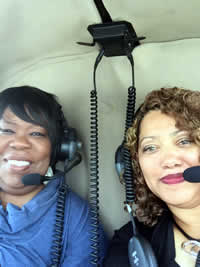 I really wanted to do something out of the norm, so I ran
a contest on Facebook! Here I am, along with contest
winner Twanda Gates of Milwaukee, Wisconsin taking our first helicopter ride sponsored by Mighty Mongoose! Remember, at some point you must say This...I...Do...For...Me™!

On Sunday, September 11, 2016 I, and Milwaukee resident Twanda Gates, the winner of first This...I...Do...For...Me™ contest, took our first helicopter ride sponsored by Mighty Mongoose with Rotorzen Helicopter Tours!  Was I a bit jittery about this new adventure?  You bet, but I was determined to try something new and move out of my comfort zone.
Seeing this city from on high was amazing. Will I do it, again?  Most definitely, but next time I want to do it at night. I'm thinking that floating above The Willis Tower, The Hancock Building, Trump Tower and Navy Pier has to be even more spectacular at night. I won't rest until I do it.
Enjoy the pics!
Photos by
Robin Tillotson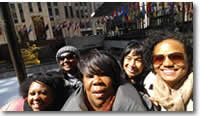 This…I…Do…For…Me™! (TIDFM™) is a new and innovative business geared to the 50+ woman, who after nurturing family, grandchildren, friends and elderly parents, along with managing career obligations, realizes she has not taken time through the years to recharge her batteries so she can appreciate and savor all of the experiences in her life. (click photo to enlarge)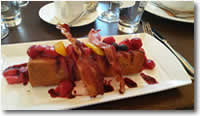 Now is YOUR time to travel, cultivate a long-ignored hobby, see a ballet for the first time, sample a new restaurant, visit an art gallery – whatever it is that you have been putting off. 
(click photo to enlarge)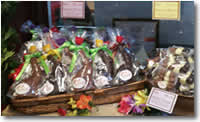 Unsure of what it is your time to do?  This…I…Do…For…Me™ is here to help.  Not knowing – that's the fun part!  You are now like a kid in a candy store, only the candy is your imagination and receptivity to new vistas.  Seeking adventure will be the new normal for you! (click photo to enlarge)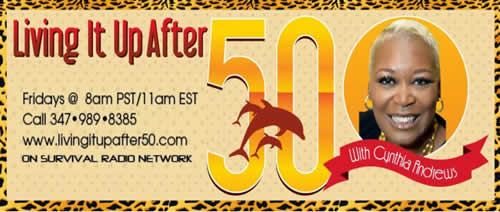 Click the banner above to hear Robin's interview
with Cynthia on her radio broadcast.

We at This…I…Do…For…Me™! are thrilled to have you on board as a regular reader, participant and fellow life-master.  We look forward to cultivating a lasting relationship with you. More importantly, we look forward to watching you blossom into all that you're meant to be.

Robin Tillotson
Chief Executive/Cultural Officer
Copyright 2015© O'K. Graphic Design for This I Do For Me™ - All Rights Reserve