Join our Facebook Group "IT'S OUR TIME TO LIVE." 
The group is dedicated to the upliftment of
women age 50+
.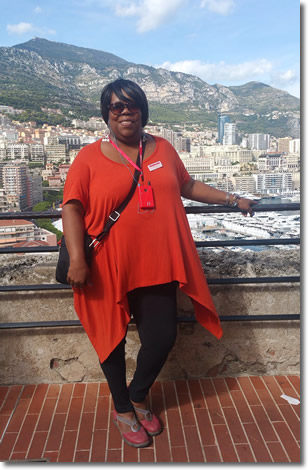 Welcome To
"This ... I ... Do ...
For ... ME™!"

I'm Robin Tillotson

,
Inviting You To ...
Step into my World!



Robin in Nice, France (above)
Even the Men are Getting in On It!

These TIDFM™ Ladies have
their t-shirts
Do you have yours yet?
Click below to order your TIDFM™
T-Shirt
---
August 21-24, 2018 was a most enlightening week as six delegates from Shanghai, China visited the City of Chicago through The Chicago Sister Cities Program.  Members of the Chicago Shanghai Social Services Committee welcomed the delegation and a translator to the world of senior/elder services as administered by the state of Illinois and the City of Chicago.
Planning for this esteemed delegation took place over the course of one year.  We aimed to provide the delegates with the most comprehensive view of service delivery models from the federal, state and local levels.  Additionally, the planning committee ensured that our guests were exposed to a variety of the milieus that seniors interface with in their day to day lives.
The delegates visited Advocate Lutheran General Hospital, Little Brothers -Friends of the Elderly Chicago, The Chinese American Service League, Cook County Public Guardian's Office, World Business Chicago, Three Crowns, The Clare Senior Independent Living Community.
The week culminated with an International Symposium that focused on how to integrate community-based inter-professional care and services to optimize the health and well-being of older adults.
Conversely, we learned a lot from listening to how things are done on behalf of seniors in Shanghai.  Next year a group of Chicago Senior Services professionals will travel to Shanghai, and their lives will change forever.
A professional and cultural exchange of this magnitude certainly creates bonds of unity and promotes a world of sharing.  We are all grateful.
---
Would You Do This For Yourself?
Guest Blogger Kweli Kitwana prepares a table before us replete with the love and care that we need to apply to our lives daily.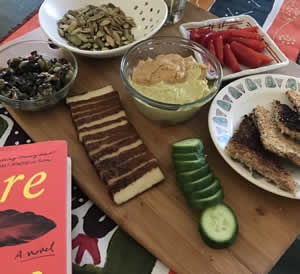 Sometimes it's the simple indulgences and  the simple activities that bring us the most joy.
Would you take the time to prepare a beautiful tray of food for yourself? You know — those special trays of foods, laid out perfectly and thoughtfully to impress others but now we are aiming to do it for  for ourselves?
We spend an enormous amount of time "pleasing" others. Whether it's our partners, family or friends, it's not common to take extra steps to ensure their enjoyment and pleasures of indulgence.
But what about yourself?  Would you make these same efforts to bring this same joy to yourself? I often hear myself saying these words,  "I get much pleasure from doing things for others."
Believe me, I truly like to do things for me — without  fanfare or exhibition, but as I prepare a tray of snacks for my reading ritual, I am very conscious that I am doing this for me. Each choice of food that I make, every piece that I slice and even right down to the arrangement of my snacks, the personal choices I make to please and stimulate my loving heart for myself are consciously done.
We don't need to eat out of bags or over sinks just because we are not in the presence of others. We can take time to mindfully care for ourselves because WE DESERVE IT!
Kweli is an artist living in the Bay Area and committed to getting the most out of life.
On Saturday, July 22, 2017 I and ten women swapped books and had a delectable dinner at Eddie V's Restaurant in Chicago. This will be an annual event for TIDFM™!
On Friday, February 18, 2017, I attended a African American History Month Wine Tasting event at The Hyde Park Hyatt. All of the wines presented by Master Wine expert Brian Duncan were created by African American wine makers. Here are the wines that were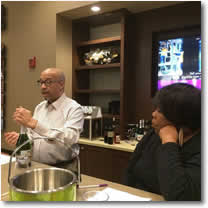 presented that evening: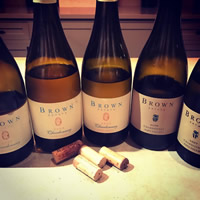 - Bodkin Sparkling Wine
- LCS Good Friends, Good Times (a Pinot Grigio)
- Love Drunk (a Rose')
- LCS We Are Moving on Up (a Cabernet Sauvignon)
- Brown Family Zinfandel
- Brown Family Chaos Theory (highly complex, but DELICIOUS)
Please stay tuned for an announcement about a wine tasting that I will offer.Details coming soon.
Wine Tasting and Food Pairing Event on Thursday, March 18, 2017 at Eddie V's Prime Seafood Restaurant - Photos are below


Results of the 3rd TIDFM™ Contest -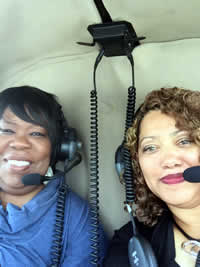 I really wanted to do something out of the norm, so I ran
a contest on Facebook! Here I am, along with contest
winner Twanda Gates of Milwaukee, Wisconsin taking our first helicopter ride sponsored by Mighty Mongoose! Remember, at some point you must say This...I...Do...For...Me™!

On Sunday, September 11, 2016 I, and Milwaukee resident Twanda Gates, the winner of first This...I...Do...For...Me™ contest, took our first helicopter ride sponsored by Mighty Mongoose with Rotorzen Helicopter Tours!  Was I a bit jittery about this new adventure?  You bet, but I was determined to try something new and move out of my comfort zone.
Seeing this city from on high was amazing. Will I do it, again?  Most definitely, but next time I want to do it at night. I'm thinking that floating above The Willis Tower, The Hancock Building, Trump Tower and Navy Pier has to be even more spectacular at night. I won't rest until I do it.
Enjoy the pics!
Photos by
Robin Tillotson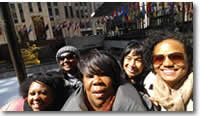 This…I…Do…For…Me™! (TIDFM™) is a new and innovative business geared to the 50+ woman, who after nurturing family, grandchildren, friends and elderly parents, along with managing career obligations, realizes she has not taken time through the years to recharge her batteries so she can appreciate and savor all of the experiences in her life. (click photo to enlarge)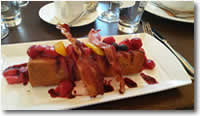 Now is YOUR time to travel, cultivate a long-ignored hobby, see a ballet for the first time, sample a new restaurant, visit an art gallery – whatever it is that you have been putting off. 
(click photo to enlarge)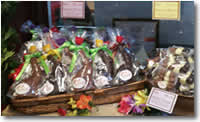 Unsure of what it is your time to do?  This…I…Do…For…Me™ is here to help.  Not knowing – that's the fun part!  You are now like a kid in a candy store, only the candy is your imagination and receptivity to new vistas.  Seeking adventure will be the new normal for you! (click photo to enlarge)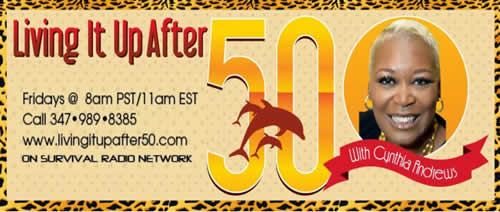 Click the banner above to hear Robin's interview
with Cynthia on her radio broadcast.

We at This…I…Do…For…Me™! are thrilled to have you on board as a regular reader, participant and fellow life-master.  We look forward to cultivating a lasting relationship with you. More importantly, we look forward to watching you blossom into all that you're meant to be.

Robin Tillotson
Chief Executive/Cultural Officer

My Mission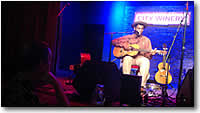 My mission at TIDFM™ is to serve as a resource to assist you in getting the most adventure out of your life.  We'll show you how to navigate through the worlds of travel, art, dance, theater, literature, dining, music – indulgences that contribute to self-love and care.  We'll even provide a venue for you to explore educational and professional development opportunities.  What more can you ask? (click photo to enlarge)

About Robin
Robin Tillotson has a wealth of experience in the arenas of advertising, public relations, human resources, training and gerontology.  An avid traveler and purveyor of culture, Robin has travelled to China, Northern Africa, France, Italy, Spain, Mexico, Canada and throughout the United States.  She loves Chicago and its world class cultural offerings.
When not travelling, Robin is reading, learning and envisioning where to travel next, and she never tires of attending plays, concerts and dance performances. 

Copyright 2015© O'K. Graphic Design for This I Do For Me™ - All Rights Reserve